In One Word: Tony Blair on May, Boris, Corbyn, Bono...
Comments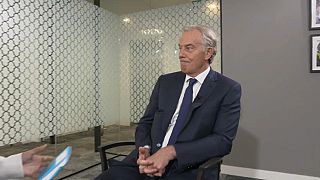 Former UK Prime Minister Tony Blair gives one-word assessments of some of Europe's leading political figures.
Find out what he had to say on Theresa May, Boris Johnson, Jeremy Corbyn, Jean-Claude Juncker and U2 front-man Bono, who has emerged recently as a champion of a strong and united Europe.
Blair served as UK leader from 1997 until 2007, when he stepped down to be replaced by fellow Labour Party heavyweight Gordon Brown. He now runs the Tony Blair Institute for Global Change, which he set up in 2016.
He was, and remains, a staunch opponent of Brexit.