Greek seamen strike for better wages
Comments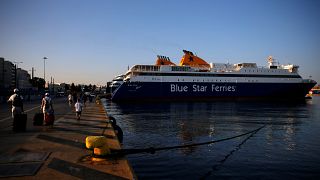 Greek seamen have gone on strike, demanding the restoration of wages and labour rights, after the country exited its final bailout programme in August.
The seamen's federation PNO called the strike when negotiations over a new collective agreement stalled.
Initially scheduled for 24-hours, the PNO extended the walkout for an extra day, causing further travel disruption and leaving holidaymakers stranded.
"We flew in last night to Athens, caught the bus down to Piraeus hoping to catch the ferry this morning but … no ferries! A bit like England, we have train strikes you have ferry strikes actually today," British tourist Philip Twaits told Euronews.
Maritime workers say employers have seen a boost in profits and should compensate them for the hardships endured during the crisis.
"For the average salary of a Greek sailor, we demand a raise of about 80 euros a month - a raise of five percent," explains Lefteris Saridakis, head of the Maritime Cabin Crews Union. "Our employers won't concede, and only offer the minimum. You need to understand that sailors don't work a full 12-month year, they only work five to seven months a year, so this amounts to half the raise."
For now, Greek ships remain docked at what's normally the very busy port of Piraeus.