Rugby Football Union referee chief meets with Jones, discuss breakdown
Comments
By Reuters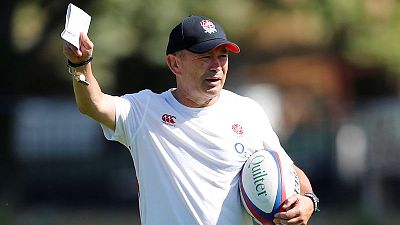 -
(Reuters) – Rugby Football Union (RFU) referees' chief Tony Spreadbury has said he met with England head coach Eddie Jones and discussed bringing domestic and international officiating into closer alignment, particularly regarding the breakdown.
Refereeing in the Premiership have tended to favour the attacking team at the breakdown while international referees have largely given the advantage to the defending side.
England have struggled to be on the same page as referees at the breakdown and Spreadbury said it was an issue Jones was keen to rectify.
"He was saying to me 'if we have a contest, that will be great for us'," Spreadbury told British media.
"I said that's fine, but we will referee the laws of the game, and he accepts that. We also want a contest and we want to allow a contest.
"All the directors of rugby who have spoken to me in July and August say it is about getting people away from the ball but when there's a good jackal let's reward them."
The Premiership season begins on Friday with Bristol hosting Bath.
(Reporting by Aditi Prakash in Bengaluru; Editing by Peter Rutherford)