Watch: Thousands of bees swarm hot dog stand in New York
Comments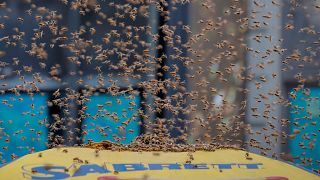 Copyright

REUTERS/Brendan McDermid
Police had to cordon off a street near New York's Times Square after thousands of bees descended on a hot dog stand.
Around 30,000 bees swarmed onto the food seller's umbrella.
Diego Mende, an onlooker from New Jersey, said the scene was "literally, the craziest thing I've seen".
Although he was keen to watch the event unfold, Mende kept his distance as he is allergic to bee stings.
It is unclear as to what attracted the bees to the food cart, with a tourist from London saying that it was "a bit scary" and questioned what the swarm was "doing in the middle of town".
A beekeeper later came to the scene, while police closed off 43rd Street at 7th Avenue to enable the professional to collect the insects.