Scallop wars: French and British fishermen pledge talks to solve spat
Comments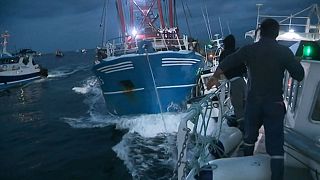 French and British fishermen have said they will attend talks to quell a dispute over access to the scallop-rich seabed off the coast of Normandy in northern France.
Footage showed insults and projectiles being thrown as fishermen clashed on Tuesday (August 28) morning.
French fisherman are irritated they are banned from fishing scallops during the summer — to protect stocks — while their British counterparts are free from such restrictions.
The head of Normandy's fishing organisation Dimitri Rogoff says he will soon receive a UK delegation to discuss the matter.
Rogoff told Euronews that scallops are an important source of revenue for fishermen with more than 1,200 families in Normandy depending on the resource.
With this in mind, the French said if no agreement is found with the British to protect the common fishing zones, they are ready to go back out at sea for another naval confrontation.
Tuesday's footage showed fishermen throwing stones and vessels crashing into each other over 12 nautical miles (22 km) out to sea off Calvados, France, where British fishermen are legally allowed to work year-round.
However, French fishermen are only allowed to fish for the molluscs between October 1 and May 15, due to rules imposed by Paris.
The British were heavily outnumbered by around 5 to 35, according to the French Maritime Prefecture.
Tensions mounted between fishermen overnight from Monday into Tuesday until they came to a head.
The maritime prefecture, which sent a boat to the scene, reported "altercations between French fishermen and British fishermen" but no injuries.
"About 40 boats from Port-en-Bessin, Courseulles, Ouistreham, Trouville, Honfleur, Le Havre, sailed through the night to denounce the British fishermen who plunder the scallop deposit," Normandy fishing chief Dimitri Rogoff said.
Some in Britain called the action "piracy", but in the ports of Normandy, the fishermen who took part in this action say they initially wanted to act peacefully, and that the tension between the two sides quickly escalated.
"Like in all kinds of demonstrations which begin peacefully, things sometimes get carried away. And here we are all a bit edgy: we have boats to pay, families to feed…so we decided to put up a fight," French fisherman Julien Hue told Euronews.
Relations between French and British scallop fishermen have been strained for as many as 15 years.
For the last few years, partial agreements have been reached between the two sides, but not this year.
"In the end, it paid off, because they left," said Anthony Quesnel, Captain of La Rise des Vents fishing boat, "but as our colleagues would say, we won the battle, but we haven't won the war."
British ships have no access to French territorial waters off the coast where the spat took place, but they can legally operate in the expansive Baie de Seine that stretches from Cherbourg to Dunkirk.
Scallops — known as Coquille Saint Jacques in France — are one of just a few species whose catch is governed by national rather than European Union regulation.
Sebastien Jumel, the deputy mayor of Dieppe, has called on the government to introduce rules that apply to French and British fishermen.