North Korea's state newspaper accuses U.S. of plotting invasion
Comments
By Stella Kim and Alexander Smith and Reuters with NBC News World News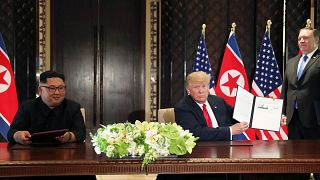 -
SEOUL, South Korea — North Korea's state-controlled newspaper accused the United States on Sunday of planning an invasion while at the same time continuing negotiations "with a smile on its face."
An editorial in the Rodong Sinmun newspaper claimed that the U.S. was carrying out "extremely provocative and dangerous" military drills in the region.
The paper, which is the official mouthpiece of the ruling Workers' Party of Korea, cited a South Korean radio broadcast as its source for the information on the alleged troop movements.
However, the U.S. Embassy in Seoul said it had no information about the exercises, and American military officials in South Korea were no available for comment, according to Reuters.
Rodong Sinmun alleged that the U.S. was "hatching a criminal plot to unleash a war" against North Korea, calling it "a crime which deserves merciless divine punishment."
"We cannot but take a serious note of the double-dealing attitudes of the U.S. as it is busy staging secret drills involving man-killing special units while having a dialogue with a smile on its face," it said. "The U.S. would be sadly mistaken if it thinks that it can browbeat someone through trite 'gunboat diplomacy' which it used to employ as an almighty weapon in the past and attain its sinister intention."
It added that the "U.S. should ponder over its deeds."
Less than three months ago President Donald Trump emerged from a historic summit with Kim Jong Un, reassuring the world that the North Korean leader was prepared to give up his nuclear weapons.
But talks have since been all but gridlocked, and on Friday, Trump canceled a visit to North Korea by Secretary of State Mike Pompeo citing a lack of progress in the negotiations.
The Rodong Sinmun newspaper did not mention Trump nor Pompeo's canceled visit.
Although Trump's meeting with Kim was the first between a sitting U.S. president and his North Korean counterpart, many experts criticized the Singapore summit as a vague rehash of previous attempts to denuclearize the Korean peninsula.
Since the fanfare of that event in June, the two sides have been unable to reconcile differences about what each is prepared to give up to achieve their goals.
Trump has also suggested his trade dispute with China is hurting the negotiations.
Stella Kim reported from Seoul, Alexander Smith reported from London.