Myanmar's army 'killed Muslim Rohingyas with genocidal intent'
Comments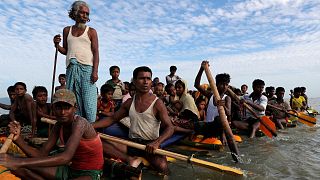 Myanmar's army killed and raped Muslim Rohingyas with 'genocidal intent', say UN human rights investigators.
A fact-finding mission by the UN's Human Rights Council, which published a report on Monday, said the country's top military generals should be investigated and prosecuted for crimes against humanity.
It also accused Myanmar's leader, Aung San Suu Kyi, a Nobel Peace Prize winner, of failing to use her position to protect the country's civilian population.
Around 700,000 Rohingya fled the western state of Rakhine to neighbouring Bangladesh after a military crackdown last August, according to United Nations agencies.
Myanmar's government, which was sent an advance copy of the UN report in line with standard practice, has not commented on the report's claims.
The massacre was uncovered by two Reuters journalists — Wa Lone, 32, and Kyaw Soe Oo, 28 — who were arrested as a result last December and are being tried on charges of violating the country's Official Secrets Act.
The court had been due to deliver its verdict on Monday, but at a brief hearing earlier the proceedings were postponed until Sept. 3.
In April, seven soldiers were sentenced to 10 years in prison with hard labour for participating in the massacre.
The European Union's executive in Brussels will hold a meeting this week with the authors of the U.N. report.
"Those responsible for alleged serious and systemic human rights violation must be held to account," said a spokeswoman for the European Commission. "Any further EU steps is something that would have to be discussed with the member states."
The spokeswoman said the U.N. report was timely as the situation in Myanmar was still "extremely serious".
The EU has sanctions on Myanmar but has shied away from targeting the commander-in-chief so far.
The U.N. investigators said in their report the commander-in-chief and five generals should be prosecuted for orchestrating the gravest crimes under law.