U.S. Open celebrates 50th birthday with $600 million facelift
Comments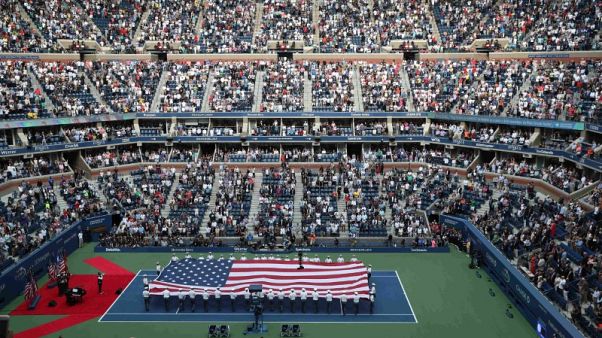 By Steve Keating
NEWYORK (Reuters) – The U.S. Open turns 50 this year and rather than easing towards old age, it will celebrate the landmark birthday by unveiling a $600 million (470.48 million pounds) facelift.
A grand slam that began life in an elegant country club in leafy Forest Hills, the U.S. Open long ago cast aside its quaint roots and has grown into a big, bold and brash money spinning tennis machine that according to Forbes will this year churn out a record $350 million in revenue.
"Forest Hills was very much a private club setting and the members took it as a sort of intrusion," tennis historian and author Steve Flink, who has attended every U.S. Open, told Reuters. "A lot of them would have preferred it to themselves.
"They came there to play."
The Forest Hills members got their courts back in 1978 when the U.S. Open found a new home in Flushing Meadows, overhauling the decaying infrastructure left behind from the 1964 World's Fair.
The grounds, now called the 'Billie Jean King National Tennis Center' have been transformed into a state-of-the-art facility boasting 22 courts, including two futuristic stadiums with retractable roofs.
While the move across the Borough of Queens was just a few miles, it marked a seismic shift for the sport. The switch from a private club setting to a public facility meant tennis had moved from the "classes to the masses".
Suddenly the traditional tennis whites dress code had a blue collar.
"It was sad in a way (the move) because it was such an elegant setting but it was too much of crush," explained Flink.
"But it was also very wise to move it and go over to a public facility like Flushing Meadows and establish a new identity and make it more for the "masses than the classes" that was the phrase we all used but it was true.
"When they made that move that was what they were in the process of doing."
When the United States National Championships opened its doors to professionals in 1968 and became the U.S. Open, the well-mannered Forest Hills crowds still observed tennis etiquette.
However, 40 years after the move to Flushing Meadows, the polite applause has gone the way of the wooden racket.
IT'S SHOWBIZ
Taking on the hustle and bustle personality of the Big Apple, the U.S. Open is loud and proud, a rock and roll show in tennis gear played out on the sport's biggest stage, the late night crowds in the City That Never Sleeps howling with each and every shot.
"It's New York, and it's a show," said six-time U.S. Open champion Chris Evert, who will be commentating for ESPN from Monday when first round action gets underway.
"Every Grand Slam has its charm, and every Grand Slam has its niche. In New York the U.S. Open, the last one of the year, it's showbiz.
"It's a spectacle. It's an event, and it's always exciting.
"Night time is more exciting in a U.S. Open than any other Grand Slam."
Organisers have planned a major extravaganza for the 50th milestone, turning the two week tournament into a three-week festival.
The qualifying rounds to the year's final grand slam were given greater prominence in the week leading up to the Aug. 27 to Sept. 9 tournament in what organisers called the 'Fan Week', while 50 former champions (27 men and 23 women) were also being celebrated and recognised on-court during special legends matches.
There is a new sleek stylised logo and slogan "Built for Glory".
Built for Glory and turning a profit.
The new 14,000-seat Louis Armstrong Stadium marks the completion of an ambitious five-year $600 million project that revamped nearly 90 percent of the sprawling facility. Among other things, according to a Forbes report, the renovation has doubled the overall square footage of the retail, food and restaurant footprint on the grounds.
"Obviously it cost a lot of money," John McEnroe, a native New Yorker and four-time U.S. Open winner told reporters during a conference call.
"But I believe the U.S. Open brings more money from what I understand… to the city than the money they receive from the (baseball teams) Yankees, Mets, (ice hockey's) Rangers and (basketball's) Knicks combined.
"It's obviously a big two weeks for New York, for tennis.
"But even for the city, the excitement level is ramped up. I think it will be even more so.
"I think people are going to love it."
(Editing by Pritha Sarkar)
euronews provides breaking news articles from reuters as a service to its readers, but does not edit the articles it publishes. Articles appear on euronews.com for a limited time.