Dublin: Pope Francis asks for forgiveness in prayers at closing Mass
Comments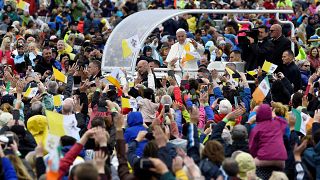 Claudio Lavanga, Euronews says, "Pope Francis wrapped up his two days visit to Ireland by leading the closing mass of the world meeting of families here in Dublin. He asked for forgiveness in his native language, Spanish before the mass, he asked for forgiveness several times. This was definitely the harshest condemnation of the sex abuse so far."
At the mass, the Pope says, "We ask forgiveness for the abuse in Ireland, abuse of power, conscience and sexual abuse perpetrated by members with roles of responsibility in the Church. In a special way, we ask for pardon for all the abuse committed in various types of institutions run by male or female religious figures and by other members of the church and we ask for forgiveness for those cases of exploitation of manual work that many young women and men were subjected to. We ask for forgiveness."
Each time the Pope asked for forgiveness the crowds erupted with applause - the words of sorrow welcomed.
It's estimated around 300,000 people went to the World Meeting of Families closing mass.
The Pontiff then had a meeting with the Irish Bishops before he took his flight home to Rome Sunday evening after his two-day historic visit.