Watch: Artist creates cameras made of wood
Comments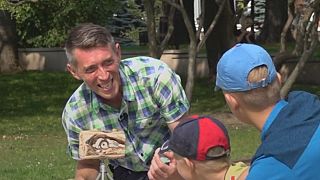 A Russian artist has created cameras made of wood.
Sergei Lebedev blends his passion for photography and woodwork to develop cameras with shells made of driftwood, pebbles and shells.
The Kaliningrad native is inspired by nature, visiting the shorelines near his hometown to find natural elements to construct the exterior of his fully-functioning cameras.
Lebedev is going back to the roots of photography with his wooden creations, saying that his work is based on the "simplest principle of cameras and the way in which photography began, the way the first cameras were born".
Commenting on how the camera operates, Lebedev says that light penetrates through the wooden shell "through a small hole, made with a needle".
This basic principle that was discovered centuries ago "is all that is needed in order to get an image on the film," according to the artist.
The former factory worker has attracted buyers around the world for his unique creations and the photographs they create, with each quirky camera selling for around €130.