Police hunt 'offensive' tourists who frolicked in underpants in Rome
Comments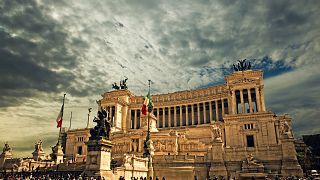 -
Photos posted on social media of two male tourists frolicking and flashing their crotch near a war memorial in Rome has sparked a man hunt by Italian police seeking their arrest.
The pictures, first published by blog Roma Fa Schifo ("Rome Sucks") on Sunday, show two men in underpants playing around in a fountain in Piazza Venezia. The water feature forms part of the Altare della Patria monument, which honours the first king of Italy and also holds the Tomb of the Unknown Soldier, a tribute to all fallen troops.
Angered by their display, Rome police slammed the visitors' "illegal and offensive" behavior and shared Roma Fa Schifo's images on their Facebook account, appealing for members of the public to come forward with information on their identity and possible whereabouts.
They described the men as foreign and "native English speakers".
The controversial images provoked Italy's deputy prime minister Matteo Salvini on Tuesday, who warned on Twitter: "I will know how to educate these idiots if they are caught.
"Italy is not their home bathroom."
While Rome's deputy mayor Luca Bergamo has called for the men to "get the maximum punishment possible" once caught.