Passenger films moment plane's engine catches fire after takeoff
Comments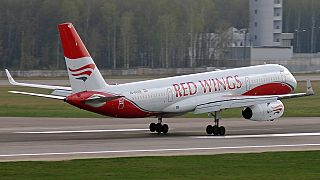 Copyright

(File Image)/Pavel Adzhigildaev
Footage of passengers reacting as a plane's engine bursts into flames, forcing it to make a U-turn back to an airport, has emerged on social media.
A Red Wings flight from Ufa to Sochi in Russia had just taken off in the early hours of Wednesday when Instagram user @den2391 noticed an orange glow from inside the left engine and filmed it on their smartphone.
As the flames intensified, the Tu-204 jet, which was carrying 202 passengers, was forced to turn back to Ufa airport to make an emergency landing.
"We flew to Sochi. During takeoff an engine caught fire," wrote den2391, who captured footage of firefighters tackling the blaze once the craft had been grounded.
"We landed safely, we descended via (emergency) slides. The fire was extinguished quickly. We were very afraid, really," they added.
Once safely on the ground, all passengers were escorted from the plane and offered support from psychologists. Technicians were deployed to examine the vehicle and establish the cause of the fire.
No casualties or injuries have been reported.