Major 7.3-magnitude earthquake rocks Venezuela
Comments
By Alex Johnson with NBC News World News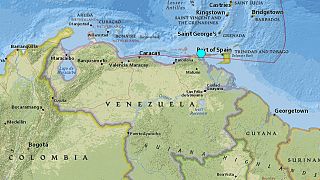 -
A strong earthquake preliminarily measured at magnitude 7.3 rocked Venezuela early Tuesday evening, rocking much of northern South America and sending people fleeing from their homes.
There were no immediate reports of casualties or significant damage.
Telesur, the Caracas-based national TV channel, reported that shaking was felt across the country. Buildings rocked and items fell off shelves across the Caribbean island of Trinidad, The Trinidad Express newspaper reported, adding: "The country has been stunned."
The Associated Press reported that shaking was felt as far away as Bogota, Colombia.
The U.S. Geological Survey, or USGS, said the quake was registered at 5:31 p.m. ET about 12½ miles north-northwest of Yaguaraparo on the northeast tip of Venezuela.
A magnitude-7.3 earthquake is capable of causing widespread heavy damage. But the USGS said the quake was about 53 miles deep, which likely eased its surface shaking.
The U.S. Pacific Tsunami Warning Center put the quake at magnitude 7.4 but said there was no threat of a tsunami to Puerto Rico, the closest U.S. territory in the region.
This is a developing story. Refresh this page for updates.