Watch: Millions gather in Saudi Arabia for Hajj pilgrimage
Comments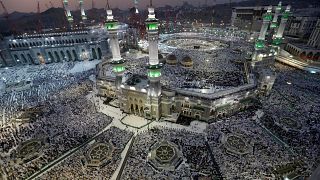 Over 2 million Muslims have gathered in the holy city of Mecca for the annual five-day Hajj pilgrimage, which officially began on Sunday.
Thousands have been circling the cube-shaped Kaaba in the city to complete their religious journey.
The Hajj represents one of the five pillars of Islam and all able-bodied Muslims are required to carry out the pilgrimage at least once in their lives.
Muslims believe the Hajj retraces the footsteps of Prophet Muhammad, who was born in Mecca, Islam's holiest city.
Pilgrims in Mecca have also been documenting their journey on social media, giving the outside world an intimate glimpse into what happens on the ground.
One man took recordings from in and around the Kaaba building:
Another shared clips of pilgrims' relaxing and sharing food as they made stops on the way:
Thousands of pilgrims are also seen walking around their tents in Mina, near Mecca, in the early hours of Sunday as their march begins: