Man held in car-ram incident in London charged with attempted murder
Comments
By Phil Helsel with NBC News World News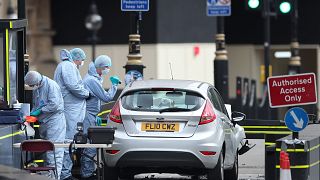 Copyright

Daniel Leal-Olivas

-
A man accused in what London police are treating as a terrorism case has been charged with two counts of attempted murder in Tuesday's incident in which a car was driven into pedestrians and cyclists near Britain's Houses of Parliament.
London's Metropolitan Police Service said Saturday that Salih Khater, 29, a Sudanese-born U.K. national, also drove a car towards police before crashing into barriers outside the government buildings.
No one was killed. Two people were hospitalized and have been released, and another person was treated at the scene, police have said. No weapons were found in the car, police said.
"Due to the methodology, iconic location and the alleged targeting of civilians and police officers, the CPS are treating this case as terrorism," police said in Saturday's statement, referring to The Crown Prosecution Service.
Police have said that a Ford Fiesta was used in the incident. Several eyewitnesses have said they saw the car plow into a group of 10 or 15 cyclists waiting at a red light.
The two counts of attempted murder are for the people at the junction of Parliament Square and Abingdon Street in Westminster, and for the attempted murder of police officers, the Metropolitan Police Service said.
The apparent terror attack came a year after a man drove his car across Westminster Bridge, struck pedestrians and then stabbed a police officer to death. Five people died, including the officer, and more than 50 were injured. The attacker was shot dead.
That attack, as well as several similar ones across Europe, resulted in more security barriers being erected across the British capital to try to stop vehicle-based attacks.