Genoa: State funeral for 19 people held, as 43 died in the disaster
Comments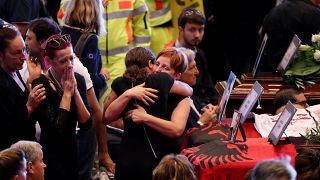 Relatives of the dead stood beside 19 coffins, including a small white one for a child, in Genoa.
The country's Prime Minister Giuseppe Conte attends the ceremony as well as the Deputy Prime Minister Matteo Salvini and Italy's head of state, President Sergio Mattarella.
Italy mourns the victims of the collapse of the motorway bridge in the northern city at a state funeral.
As all the names of those who died are read out, everyone claps.
The mass was held at the Exhibition and Trade Centre and led by the city's Archbishop.
Archbishop of Genoa, Cardinal Angelo Bagnasco says, "The collapse of the Morandi bridge on the river has broken the heart of Genoa. The deep wound is caused above all by the immense pain for those who lost their lives and for the missing, for their relatives, the wounded and the many left homeless."
There were several faiths who died in the disaster.
But some of the victims' families boycotted the event and held their own private services, as a protest against the state, others grieved in private.
The funerals coincided with a national day of mourning.