Former United Nations Secretary General Kofi Annan dies at 80
Comments
By Yuliya Talmazan with NBC News World News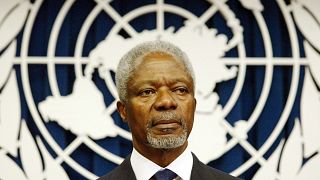 Former United Nations Secretary General Kofi Annan has died, his family and the Kofi Annan Foundation confirmed Saturday. He was 80.
A statement from the foundation said Annan passed away peacefully on Saturday after a short illness. The foundation said Annan's wife Nane and their children Ama, Kojo and Nina were by his side during his final days.
"Kofi Annan was a global statesman and a deeply committed internationalist who fought throughout his life for a fairer and more peaceful world," the foundation's statement said.
"During his distinguished career and leadership of the United Nations he was an ardent champion of peace, sustainable development, human rights and the rule of law."
The U.N.'s current Secretary General, António Guterres, said in a statement on Annan's passing: "Kofi Annan was a guiding force for good... In many ways, Kofi Annan was the United Nations."
Annan was born in Kumasi, Ghana. He led the U.N. from 1997 to 2006, the body's seventh Secretary General and the first to emerge from the ranks of United Nations staff.
In 2001, Annan and the U.N. were jointly awarded the Nobel Peace Prize "for their work for a better organized and more peaceful world."