Watch: Endangered wild donkeys reappear in northwest China
Comments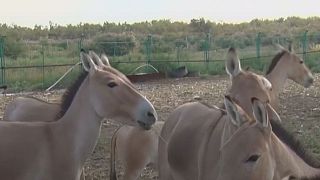 A herd of endangered Mongolian donkeys has reappeared in their homeland in northwest China.
About 400 of the asses were spotted in Qitai County, a region in northwest China's Xinjiang Uygur Autonomous Region.
The wild donkeys, known as Mongolian Khulans asses, are listed under China's first-level state protection for endangered species with just over 2,000 still in existence.
In the past, the Mongolian asses roamed throughout Central and Western Asia. Their sharp decline over the past six decades has been attributed to poaching and the deterioration of their environment.
The director of Qitai County's wildlife conservation office, Chen Shengming, accredited the reappearance of the endangered animals to local government efforts to improve the regions ecological conditions.
In addition, the ecologists have been using artificial breeding techniques to increase population numbers, while patrol teams were established to prevent poaching.
"The mating season for the Mongolian wild asses is from June to August. With the improvement of the ecological environment, the rarely seen Mongolian wild asses have returned to their home and their breeding habitat recently," said Shengming.
Ma Xudong, the secretary of the Chinese Communist Party Committee of Qitai County, stated that they would "rather have slow economic development than sacrificing the environment".