Watch: Endangered baby gibbon introduced to Prague zoo
Comments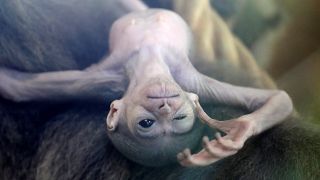 Copyright

REUTERS/David W Cerny
An endangered Silvery Gibbon was introduced to the public at Prague Zoo in the Czech Republic Tuesday.
The Silvery Gibbon is one of the world's rarest primates and native to the island of Java in Indonesia, with less than 4,000 of the species living in the wild.
The new arrival is the second of its species to be born in captivity, following its 3-year-old brother being the first.
The sex and name of the 9-day old gibbon have yet to be announced.
The curator of the zoo, Vitek Lukas, celebrated the birth of the infant and commented that primate's birth is critical to the breeding plan of the rare species.
The Silvery Gibbon is known to be monogamous. The species have mall faces and are aptly named with distinctive silver to grey fur.
In the wild, young primates tend to stay with their family unit until they reach six years of age, where they are ready to leave their tribe.