Watch: Slovenians gather to set Guinness World Record in scything
Comments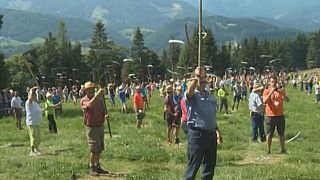 Slovenians gathered in rural countryside last weekend to set the Guinness world record for the most participants scything in one place. 
Sything is a traditional grass-cutting method where cutters use a long stick ended with a curved blade. A scythe is an agricultural hand tool for mowing grass or reaping crops
Around 570 people from across the nation participated in the unusual event with ages ranging from 16 to 88. They had to scythe the four square-metre land in exactly fifteen minutes.
Among those in attendance was the President of Slovenia, Borut Pahor. Reminiscing on his youth, Pahor said: "Some things from your childhood stay with you. This you stays with you."