Golf - Varner laments dearth of African-Americans on PGA Tour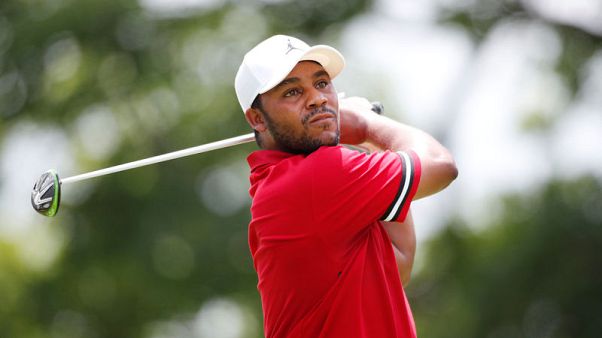 -
By Andrew Both
(Reuters) – Harold Varner III wants to inspire a new generation of African-Americans to come on to the PGA Tour so that there is more diversity on the professional circuit.
More than two decades after Tiger Woods burst onto the professional scene, an influx of minority players has not exactly followed in his wake.
Woods captured the imagination of African-Americans, and people of all stripes, but that has not been enough to encourage a new generation to follow in his footsteps.
Professional golf at the highest level remains a largely white game.
"I think it's just accessibility," Varner told Reuters ahead of this week's Wyndham Championship in Greensboro, North Carolina.
Varner, who turns 28 on Wednesday, said he made it onto the PGA Tour because he found an affordable option to hone his skills when he was young.
Introduced to the game by his father, Varner played all summer at his local Gastonia municipal course outside Charlotte.
"From June 1 to Sept 1 (it cost) 100 bucks and you could play Monday to Friday," he said.
"One hundred bucks, that's cheaper than the Y (YMCA). I don't think many courses are willing to take the risk now. It's sad, man.
"If you're going without something in life, when are you going to have left over money to play golf?"
Varner wants to do his part to change the situation, and his emergence as a quality player is a step in the right direction.
"My role is to give them inspiration, that's what I hear, just keep doing what you're doing, you're inspiring kids," he said.
"My job is to give some kids, even if it's one kid, the same opportunity I was given. You've got to a be a light to these kids.
WRONGPATH
"It's so easy to go down the wrong path and it's way easier to do nothing. It's cheap to do nothing. It costs to do something."
While not exactly a breakout star in his two-plus seasons on tour, Varner has made steady progress.
He has not yet won on the PGA Tour, but recently shared the lead into the final round at the Greenbrier Classic, before finishing tied for fifth.
He followed that up with a sixth place at the John Deere Classic and a share of 17th at the Canadian Open.
The recent hot streak, perhaps coincidentally, came after Varner played a practice round with Woods at the Players Championship in May, and had a chance to pick the 14-times major champion's brain.
He was fascinated at how Woods focuses even with all the bedlam that invariably follows him around the course.
"I wanted to ask him how he focused with that many people around," he said.
"He's like, 'you can hear those people but you're focusing on what I'm saying right now. Focusing is like reading a book with the TV on. You can hear the noise from the TV but you're focusing on the book.'
"As a kid I always thought they blocked everything out (but they don't)."
Woods subsequently wished Varner luck in the final round at the Greenbrier.
"He texted me the night before and said 'let's go and win this thing'."
After he did not win, Varner asked for more advice.
"Next day I asked him, what do you do when you're nervous and under pressure?
"He said 'I don't change a … thing."
(Reporting by Andrew Both in Cary, North Carolina, editing by Pritha Sarkar)
euronews provides breaking news articles from reuters as a service to its readers, but does not edit the articles it publishes. Articles appear on euronews.com for a limited time.