Afghan forces fight to drive Taliban out of Ghazni
Comments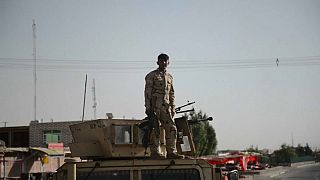 Afghan defense forces on Monday (August 13) continued to battle Taliban militants in the strategically important city of Ghazni.
The militants launched an assault on the area on Friday (August 10).
Four days of intense fighting have killed hundreds of Afghan and Taliban forces.
The number of civilian casualties is unknown but aid agencies say medication is scarce and
hospitals are struggling to cope with the number of wounded.
Ghazni is a strategic centre on the main highway linking the capital Kabul with southern Afghanistan
The Taliban attack on the city is a blow to President Ashraf Ghani just weeks before scheduled parliamentary elections
It's also hit hopes of peace spawned by a three-day truce during June's Eid al-Fitr holiday.