Hungry Iranians struggle — even before sanctions bite
Comments
By Ali Arouzi and Alastair Jamieson with NBC News World News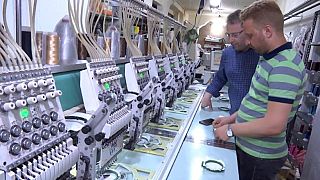 -
TEHRAN, Iran — Iranians are braced for the impact ofU.S. sanctions reimposed this week by President Donald Trump following the U.S. withdrawing from the2015 nuclear deal. But millions were already struggling with an economy that has been in a tailspin for at least the past year.Families are stockpiling groceries because supermarkets often don't have day-to-day produce on the shelves, or they fear prices will soon jump.There is hyperinflation, and the national unemployment rate is 12.5 percent. Among youth, it is even worse, with around 28 percent out of a job. Iran's currency, the rial, has lost around 80 percent of its value in the last year.
"I have never seen the economy so bad, and people I speak to who have been around, working for the last 30 years or more, say this is the worst they have ever seen it," said Pouria Pakan, who runs a children's clothing factory with his brother Peyman."It's very strange. You see things go up in price by 30 percent, 40 percent, 50 percent overnight."The brothers built their business from nothing but now they are struggling to keep it afloat, even before sanctions bite. An economic boom that was widely expected to boost living standards after most international sanctions were lifted as part of the landmark Obama-era nuclear agreement simply did not materialize."We are trying our best to keep our head above water, not to lay off workers but if things don't improve in the next month we are going to have to let about 70 percent of our workers go," Pakan said. "This is a terrible situation to be in."
"God forbid this factory closes. I doubt I would find another job."
Despite decades of anti-American rhetoric from Iran's theocratic government, most Iranians hold their own rulers responsible for the economic crisis."I think a lot of people are to blame but as it stands, I don't think our situation has anything to do with America, the sanctions only just started," said Pakan. "We have been in the situation for a while now."The country was rocked by very large protests in January, and again by smaller-scale demonstrations earlier this month.Such bread-and-butter protests by hungry Iranians have forced the government into action.President Hassan Rouhani addressed the nation late Wednesday, promising to stabilize the economy and to ensure basic goods are available. But his words have done little to reassure struggling citizens.
"Day-to-day life becomes harder every day," said Mehdi Bayat, a worker at the factory. "God forbid this factory closes. I doubt I would find another job."He said Iran's rulers had done little to help the poorest, even in the short time sanctions were lifted."I am a member of the weakest part of society, a worker," he said. "I blame our own government, those who have keeping getting richer but those who don't are getting weaker."Many of those in recent public protests were working-class Iranians with very little to lose.Iran's middle classes are more circumspect, fearing that turmoil will bring an even worse situation. They are worried that Iran could turn into the next Iraq or Syria, which are mired in conflict."Everyone was very hopeful after the nuclear deal, things were starting to get back on track and production was up," said Peyman Pakan. "There was a sense of hope and confidence, but as time went by sales started to diminish and now that America has left the deal that panic, that fear has hurt all business and production."
Although he believes the U.S. was wrong to abandon the deal while other Western countries were still backing it, he recognizes the complexity of the political situation."I heard that Trump has boosted the economy and jobs in America," Peyman Pakan said. "He didn't become America's president to boost the Iranian economy. Unfortunately, Iran's economy has become interlocked with political issues."The sanctions reimposed by Trump early Tuesday cover the import of U.S. dollars, gold coins and the aviation and automotive industry.But the real crunch will come in November when the next tranche of sanctions hits oil and petrochemicals. Those are Iran's lifeline, and looming sanctions on those industries is a major cause of anxiety on the streets.
Many Iranians are also worried about their health. The last time sanctions hit Iran, it was difficult for people to fine medicines for their families.Amid an enormous sense of anger and frustration, both at the government in Tehran and at Washington, ordinary people are caught between a rock and a hard place.All they know is that it is going to be a very tough few months.Ali Arouzi reported from Tehran; Alastair Jamieson reported from London.