Far-right German leader doubts Steve Bannon's anti-EU push
Comments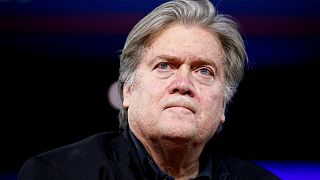 -
A leader of the far-right Alternative for Germany (AfD) party has poured cold water on plans by Steve Bannon, U.S. President Donald Trump's former political strategist, to forge a wide populist alliance to undermine the European Union.
"We're not in America," Alexander Gauland, one of two co-leaders of the anti-immigrant party, told the Funke Mediengruppe newspaper chain in an interview published on Saturday.
"The interests of the anti-establishment parties in Europe are quite divergent," he added in comments that amounted to a blunt rebuff to Bannon from one of Europe's most influential far-right parties.
The former Trump strategist last month announced he had created a Brussels-based political organization called The Movement to rally nationalist and populist voters in European Parliament elections next May, with a goal of undermining and paralysing the bloc.
However, Gauland said that while his co-leader Alice Weidel had met once with Bannon, he saw no possibility of cooperating with him. "Mr Bannon will not succeed in forging an alliance of the like-minded for the European elections."
He said the AfD only had close contacts with Austria's far-right Freedom Party (FPO), junior party in Austria's coalition government.
Former AfD leader Frauke Petry had always wanted to work with France's National Front, but that had not worked out.
Gauland said his party was polling at 17 to 20 percent in recent surveys, and its support could grow beyond that as long as Chancellor Angela Merkel remained in power.
The party won 12.6 percent of the vote in national elections last September, making it the third largest party and catapulting it into the German parliament for the first time.
Gauland said the AfD needed to grow stronger, but he expected it to be ready to take on a governing role in the medium-term.
Political experts say the party could become the strongest party in the eastern German states of Saxony and Brandenburg in regional elections next year, which will raise the question of whether mainstream parties will reverse course and agree to form coalitions with it.