A closed book? Literary festival hits out over UK's 'humiliating' visa rules
Comments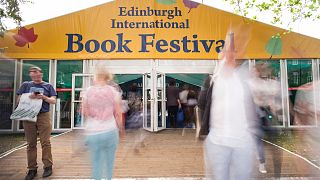 Foreign invitees to the world's biggest literary festival have been 'humiliated' in trying to get clearance from British authorities to attend, it's been claimed.
Organisers of the Edinburgh International Book Festival, which begins on Saturday (August 11), say it's been the worst year for trying to get short-term visas for authors living outside the EU.
They say the application process is incredibly complicated and that a dozen authors were refused visas.
Palestinian author Nayrouz Qarmout, due to appear in Edinburgh on Wednesday, said she was asked to deposit money in a current account from a savings account. But when she did so the transaction was deemed "suspicious" by UK authorities.
Nick Barley (pictured, right), director of the festival, said another author had wanted to pull out after being asked to provide his marriage certificate, his daughter's birth certificate, three years of bank statements and biometric testing at an African visa office in a "humiliating" process.
"We are obviously concerned that the challenges of obtaining a UK visa will have a knock-on effect on the international reputation of not only Edinburgh's festivals but arts and cultural organisations across the UK.
"We are an international festival and our remit is not only to put Scottish authors on an international stage but also international authors on a Scottish stage.
"We want to work with arts organisations across the UK, and the UK Government, to ensure that international artists, performers, musicians and authors who are invited to visit the UK by a known arts organisation are able to come to perform and talk about their work without the humiliation of having to provide the level of personal and financial detail currently required."
A spokeswoman for the festival told Euronews on Saturday that nine of the dozen authors with visa issues had resolved their problems after the intervention of politicians, ambassadors and the British Council.
They are hopeful the other three will be able to obtain their visas in time to attend the festival, too.
"The problems are possibly an unintended consequence of new immigration regulations," she added. "It's a wider problem than Brexit and we have noticed an increase in authors experiencing refusals and delays in their applications over the last couple of years.
"This is the worst year yet — and while it's only a relatively small number of writers (we invited over 900 from 55 different countries) — we believe that this has the potential to be very damaging not only to our festival, but to arts and culture organisations across the UK."
The book festival's visa complaint comes after the founder of another UK festival, Womad, made a similar point.
Peter Gabriel criticised British authorities after at least three musical acts could not play because of visa issues.
"Do we really want a white-breaded Brexited flatland?" he asked. "A country that is losing the will to welcome the world?"
The desire to curb immigration was a key reason Britons voted to leave the EU in 2016, and Prime Minister Theresa May has vowed to end unrestricted free movement of EU citizens to Britain after the country leaves the bloc in March 2019.
Stricter rules on immigration requirements for those entering Britain from outside the EU have also become evident in recent months. Britain's interior minister resigned earlier this year after an outcry about immigrants wrongly declared illegal decades after being invited to plug post-War labour shortfalls.
A spokesperson for the UK Home Office told The Guardian: "We welcome artists and musicians coming to the UK from non-EEA countries to perform.
"In the year ending December 2017, 99% of non-settlement visa applications were processed within 15 days and the average processing time in 2017 was just under eight days.
"Each case is assessed on its individual merits against the published Immigration Rules."