UN seeks 'credible' investigation into Yemen bus attack
Comments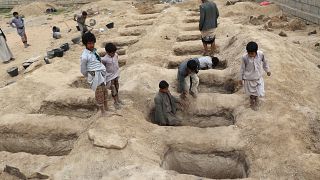 Following the Saudi-led attack in Yemen that killed at least 29 children on a school bus and wounded more than 30 others - the U.N. Security Council says it wants "a credible and transparent investigation".
In a statement on Friday, the senior U.N. official, Karen Pierce, expressed "grave concern" at the latest attacks in Saada province:
"The members of the Security Council met and heard a briefing from the Assistant Secretary-General on the recent attacks in Saada, which resulted in large numbers of civilian casualties including children. They expressed their grave concerns at these and all other attacks in Yemen. They called for a credible and transparent investigation."
The children were traveling through a market in Dahyan, in the northern province of Saada when they were struck.
The Houthi-run health ministry claims the death toll is even higher.
"The truth is that we have now seen that the number of martyred has reached 51 and the number of those injured has reached 79," claimed Health Minister Taha Mutawakil.
The Saudi-led Arab military coalition previously justified the attack saying it was legitimate but has now agreed to take part in an investigation.