Romania's expats return home for anti-government protest in Bucharest
Comments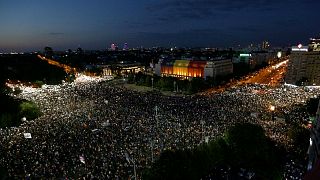 Romania's expatriates returned to Bucharest to join thousands of their compatriots protesting about corruption and alleged attempts to weaken the country's judiciary.
There were up to 60,000 people at Friday's rally, according to Agerpres, Romania's national news agency.
The demonstrators, who called for the resignation of the Social Democrat Party-led government, were generally peaceful but some tried to break through a security line and tear gas was fired.
It is the latest rally in a series of demonstrations that have plagued the government since they came to power two-and-a-half years ago.
Protesters are upset about moves to weaken the judiciary and decriminalise some corruption offences.
Daniel Ostafi, who moved to Italy in the early 2000s, was among those who crossed Europe to take part in Friday's demonstration
"I left to give my children a better life, which was not possible here then," said Ostafi. "Unfortunately, it is still not possible, the ... people who govern us are not qualified and they are corrupt."
But the regular protests have done little to change the direction of the ruling PSD, who were elected with 45% vote share in late 2016.
Romania ranks as one of the EU's most corrupt states and Brussels keeps its justice system under special monitoring.
Several politicians from the ruling coalition derided the rally in the run up, saying they did not understand why the diaspora would protest.