More and more babies born outside of marriage in the EU
Comments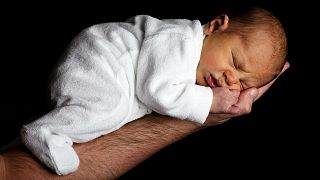 -
More babies are born out of wedlock in Europe.
As of 2016, 43% of births came outside of marriage, according to Eurostat, the statistics gathering arm of the European Union.
This could be due to changes in traditional family structures, civil partnerships and single parenting, according to researchers.
Between 2000 to 2016, there's been a 15% increase in births outside of marriage, a 1% increase annually.
France leads with the highest number of births outside of marriage in the EU at 60%, while Greece was the lowest at 9.4%. The reason behind this could be due to the introduction of civil unions; or, the pacte civil de solidarité (PACS) in the country. First started in 1999 as a way for gay couples to have the same legal rights as married couples, PACS has become popular among heterosexual couples as well, according to this New York Times report.
In eight EU Member States, countries with the highest births outside marriage were: France (60%), Bulgaria and Slovenia (59%), Estonia (56%), Sweden (55%), Denmark (54%), Portugal (53%) and the Netherlands (50%).
In contrast, more than 80 % of babies born in Greece, Croatia and Cyprus were born to married couples.
Elsewhere in Europe, such as Switzerland and Liechtenstein, the proportion of births outside of marriage was below 25%, in contrast to Norway (56%) and Iceland (70%).
The high numbers in Iceland could be due to the nation's progressive way of life and thinking, according to Fatherly.
Key facts for EU countries (as of 2016):
* 5.1 million babies born outside of marriage
* 1.6 is the average number of children a woman gives birth to: ranging from 1.34 in Italy and Spain to 1.92 in France.
* 29 is the average age women gave birth to their first child.