Judo fans delighted at 2018 Budapest Grand Prix
Comments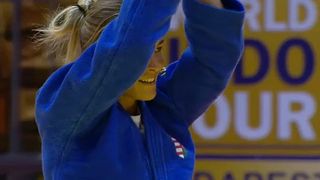 Judo returns to Budapest, the scene of last year's World Championships,
On the first day of the 2018 Budapest Grand Prix, our woman of the day was Brazil's Rafaela Silva, the Olympic Champion in the -57kg category.
She found herself in a thrilling final against German rising star Theresa Stoll.
Things started well for Silva as she took a wazari lead, with her opponent attacking her and tipping the balance in Silva's favour. She managed to roll Stoll across her back and put herself firmly in the driving seat.
But later Silva found herself on the wrong end of the same technique, as Stoll turned the tables on her and scored an ippon. However, having briefly tasted victory, Stoll's celebrations were cut short as the video referee intervened.
Incredibly, with less than 10 seconds remaining, Silva counter-attacked with the same move once again, scoring a second wazari and earning a much-needed victory. It's her first since the Olympic Games two years ago.
Rafaela Silva said: "I'm very happy to be back on the podium. In Zagreb, things were going well but I lost for the bronze and today I manged to win gold so I think I'm going the right way to having a good world championships."
Ryuju Nagayama was our man of the day. The Japanese youngster showed some spectacular judo on his way to the -60kg final. He defeated Russia's Albert Oguzov to claim his fifth gold medal on the IJF World Judo Tour. A seoi nage was enough to get the job done as he once again topped the podium.
The next question: can he take the world champion's red back patch from his compatriot Takato this September?
Ryuju Nagayama said: "As this is the last event before the World Championships and the competition was tough, getting the win gives me confidence. Getting the red back patch would be great as it's something all athletes look out for, so I'll be looking to get that."
Japan were also on top in the -48kg category, as Endo Hiromi threw team-mate Yamazaki Tamami in the final.
Tagawa Kenzo earnt himself a second world tour gold of the year, scoring a stylish ippon against Egypt's Mohamed Abdelmawgoud to take top spot on the podium.
A beautiful piece of footwork from world silver-medallist Tsunoda Natsumi in the -52kg category against Charline Van Snick of Belgium, meant she took her second world tour gold.
Our move of the day came from Moldova's Denis Vieru, who took the -66kg bronze with a spectacular osoto gari against Mongolia's Dovdon.
But the moment of the day, to send the home fans wild, saw Karakas Hedvig secure a dramatic armlock to earn herself the bronze medal at -57kg - a new hero.