Greece fire victims to receive compensation
Comments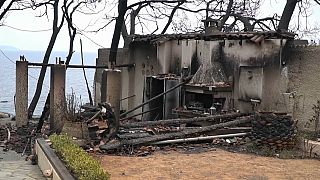 Thousands of homes in East Attica, burnt out and destroyed by last month's catastrophic fires.
At least 93 people are confirmed to have died in the disaster.
As thousands try to rebuild their homes and livelihoods, Greece's Government sets out a compensation plan. More than €130 million is expected to be issued.
Homeowners can receive €1000 per square metre for houses completely destroyed and €550 per square metre for houses needing repairs.
Greek Prime Minister, Alexis Tsipras, has said a new Task Force will also be created, responsible for future disasters. It's after last month's actions by the country's government and emergency services were heavily criticised.
It was revealed a mix-up during the catastrophe, between fireighters and police, left people stuck in narrow streets and survivors stranded for hours on beaches.