Asian Games - Thailand teams look to continue sepaktakraw dominance
Comments
By Reuters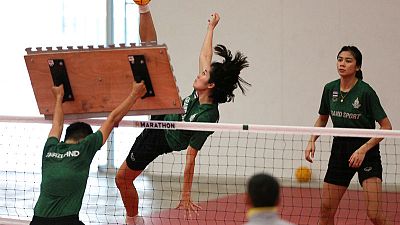 -
By Jiraporn Kuhakan
(Reuters) – Sepaktakraw powerhouse Thailand are confident that they can continue their dominance of the sport in the Asian Games which begins in Indonesia next week, men's team head coach Kamon Tankimhong said on Friday.
Thailand has claimed 22 out of 33 Asian Games gold medals awarded in the skilful sport and have finished as the best nation in each of the last five editions of the continental multi-sport gathering.
"We're confident of an overall medal from the three-men team. For the two-men team, we must get the medal, because this is the first time we take part in the category," Tankimhong, who has been in charge since the 1998 Bangkok Games, told Reuters.
The Thai men's team comprises 15 players for the traditional Asian sport, which sees players twist and turn their bodies in mid-air to send a rattan ball into the opposing court using their feet, legs and head.
Women's head coach Veerat Na Nongkai said the 12-member women's team were "100 percent ready to compete" in the quadrant and team regu events.
"We have been practising all techniques. I want the other national teams to be prepared to compete with us because we are ready to win," said Nongkai.
"It is a lot of pressure… we cannot lose according to what our association president said. But I have turned pressure into motivation for myself and the team," women's team member Payom Srihongsa added.
Apart from hosts Indonesia, 14 other countries will compete in sepaktakraw. Pakistan will make their first appearance in the competition this year.
The sepaktakraw events at the Asian Games will take place from Aug. 19-31 in Palembang, Indonesia.
(Writing by Shrivathsa Sridhar in Bengaluru; editing by Sudipto Ganguly)