Watch: time-lapse of major blaze in wildfire-hit California
Comments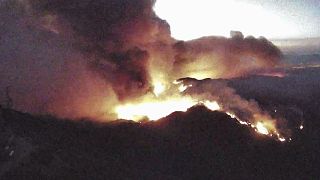 This is an eight-hour time-lapse of one of the major wildfires that authorities in California are battling to control.
The footage, taken from the Santiago Peak mountain, shows the progression of the blaze in Trabuco Canyon.
Officials say the fire, which has spread across an area of more than 4,100 acres in southern California, has destroyed 12 structures.
The time-lapse of the blaze was shot between 5am and 1pm on Wednesday (August 8).
In northern California, authorities are battling the state's largest wildfire, covering an area of 302,000 acres.
More than 4,000 firefighters are trying to bring it under control but fierce winds, bone-dry weather and high temperatures are working against them.