Athletics - Ingebrigtsen boys reach 1,500m final after scare
Comments
By Reuters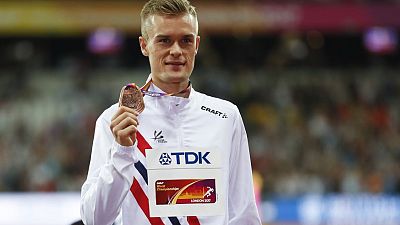 -
BERLIN (Reuters) – The dream of Norway's remarkable Ingebrigtsen brothers to achieve a unique podium sweep in the European Championships 1,500 metres final remains alive — but only after reigning champion Filip Ingebrigtsen had to overcome a real scare.
All three brothers — 25-year-old Filip, 27-year-old Henrik and 17-year-old Jakob — qualified for Friday's final from separate semis on Wednesday but Filip, winner in Amsterdam two years ago, had to pick himself off the floor to do so.
As the second heat dawdled along on the second lap in Berlin's Olympic Stadium, two athletes fell to the track after a collision on the back straight and Filip also ended up tumbling over them in the melee.
Coolly, though, he picked himself up despite a gashed leg, managed to rejoin the main pack and, although he later slightly stumbled again when jostling for position, had enough energy left in reserve to sprint into the third of the three automatic qualifying spots.
"I just had to get up and get started again but it costs you when you fall and have to start again," said Filip, who disappeared to have the wound stitched after the race.
Jakob, the second fastest in Europe this season and tipped to become the best of the trio, and Henrik, bronze medallist behind Filip in Amsterdam and the 2012 European champion, made it through as automatic qualifiers with no such alarm.
Their presence in the final will delight Norwegian sport as the story of the three middle-distance siblings who have all risen under the guidance of their father and coach Gjert has become headline news there.
"It's going to be a very interesting final for sure. If anyone wants to join the Ingebrigtsen party, please do so," smiled Henrik, the most flamboyant of the trio with his mohawk and moustache. "I believe in my brothers."
Of Filip's fightback to make the final, he was particularly impressed. "I think Filip won the gold medal there," he said.
"I do not think it will hamper him in the finals. If so, he is still so good that it does not matter," added Jakob.
As for who would do best among the siblings, Filip never seems to have any doubts. "I have to say me," he had said with a smile before the championships.
(Reporting by Ian Chadband; Editing by Christian Radnedge)