Perseids meteor shower: When and where can we watch?
Comments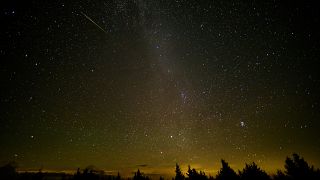 The annual Perseids meteor shower is expected to take place from July 17 to August 24, with peak times occurring during the night of August 12.
Peak times should reveal about 60-70 meteors per hour, according to NASA's meteor expert Bill Cooke.
"The moon is very favorable for the Perseids this year, and that'll make the Perseids probably the best shower of 2018 for people who want to go out and view it," Cooke told Space.com.
Unlike most meteor showers that have a short peak of high meteor rates, the Perseids have a "very broad" peak, Jane Houston Jones from NASA's Jet Propulsion Laboratory explains.
According to Jones, Earth takes more than three weeks to pass through the dust and debris left behind by the comet Swift-Tuttle each year, which is responsible for the annual Perseid show.
Observers in mid-northern latitudes, including Europe, the UK and the US, are expected to have the best views.