Mountain Biking - Neff and Forster earn Swiss cross-country double
Comments
By Reuters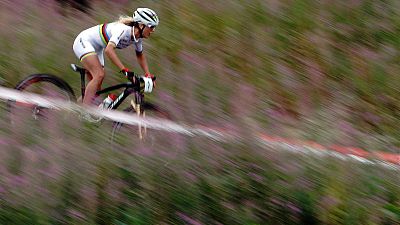 -
GLASGOW (Reuters) – Jolanda Neff and Lars Forster made light of a punishing course to ride away from their opposition and fashion a golden Swiss double in the mountain biking races at the European Championships on Tuesday.
World champion Neff burst clear on the first of five laps of the undulating 28-km course before stretching away to win the women's title from her nearest, though distant, challenger, France's Pauline Ferrand Prevot, by more than two minutes.
If the 25-year-old's victory was as routine as it was emphatic, Forster's was more unexpected — and rather closer —in the men's 33km cross-country race as he only managed to forge clear of dogged Italian Luca Braidot in the final stages.
The course, set at the highest point in the Glasgow city area at the Cathkin Braes trails, was so demanding that even Neff at one point on the first lap had to dismount and push her bike up one of the many steep inclines.
Yet once into her stride, she was in a different league to the opposition, relentlessly increasing her lead over each circuit until she was able to do a 'wheelie' in celebration just before crossing the line in one hour 31 minutes 29 seconds.
"I crashed and missed out on this title last year so it's a dream for me," said Neff, who was celebrating her third European crown in four years.
Ferrand Prevot clocked 1:33:33 with bronze medallist Githa Michiels of Belgium clocking 1:34:56.
Forster powered to his first major cross-country title, finally breaking Braidot on the last lap after the pair had duelled at the front for two laps. The man from Zurich eventually forged 24 seconds clear, clocking 1:33:01.
"I always thought it was possible to win but it's unbelievable to achieve it," Forster said, praising the help from his Swiss team mates, including defending champion Florian Vogel who eventually finished 11th.
Spain's David Valero Serrano battled through the field from 28th place after the first of the six laps to take bronze.
(Reporting by Ian Chadband; Editing by Richard Balmforth and Ken Ferris)