Swiss aid drought-hit farmers, pull dead fish from Rhine
Comments
By Reuters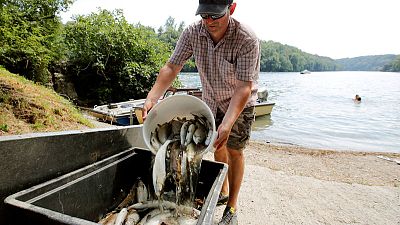 -
ZURICH (Reuters) – Switzerland will cut import tariffs on livestock feed and offer interest-free loans to help farmers deal with a drought, the federal government said on Monday, amid a heat wave that is killing off fish in the Rhine.
The tariff on imports of hay and silo maize would be brought down to zero from three Swiss francs per 100 kg, a spokesman for the federal agriculture agency said.
"The persistent drought puts agriculture in a difficult situation in various areas," the government said in a statement, outlining measures that will complement steps taken by individual cantons.
The measures to help Swiss farmers came as the heat wave pushed the water temperature in parts of the Rhine river above 27 degrees Celsius (80.6°F), killing thousands of fish and forcing trout and grayling to try to find cooler waters.
Fishery authorities in three Swiss cantons along the river said that despite measures to add cool water about one tonne of dead fish had been collected so far, representing a quarter to a third of the annual catch volume.
"Given the weather situation, a further increase in dead fish is expected over the next few days. A mass extinction as in the hot summer of 2003, when 90 percent of the entire grayling population died, hopefully will not occur," a statement said.
Although domestic hay harvesting has been good in most locations, persistent drought in some regions has led to supply shortages that can be offset only in part from domestic sources, it said.
"Tariff reductions partly compensate for the rise in import prices and are therefore intended to benefit farmers," it added.
"The greatest difficulty for farmers concerned is the maintenance of liquidity and the general improvement of the operating situation. A repayable, interest-free operating loan can help here," it said.
(Reporting by Michael Shields; Editing by Richard Balmforth)