Europe briefing: Five stories to know about today
Comments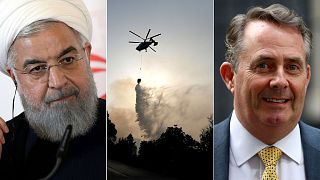 Wildfires continue to rage in Portugal
Searing temperatures in Portugal are stoking wildfires which have swept the southern Algerve region for a third day and reached Monchique, a tourist destination.
A heatwave sweeping Europe this summer has seen seen temperatures soar to 46 degrees in some parts of the country.
On Sunday evening over 700 firefighters had been deployed to battled the blaze, which has so far destroyed more than 1,000 hectares of woodland in the hilly Monchique area, but the flames have continued to spread.
Likelihood of a no-deal Brexit is '60-40', says UK Trade Secretary
The UK's international trade secretary Liam Fox has put the prospect of a no deal Brexit at "60-40" in an interview with the British Sunday Times newspaper. 
Fox attributed the swing to Brussels' "intransigence".
"I think the intransigence of the commission is pushing us towards no deal," he said. "We have set out the basis in which a deal can happen, but if the EU decides that the theological obsession of the unelected is to take priority over the economic wellbeing of the people of Europe then it's a bureaucrats' Brexit, not a people's Brexit – then there is only going to be one outcome."
Germany backs Iran ahead of sanctions roll-out
Berlin will continue to offer export and investment guarantees for companies doing business with Iran, their economy ministry said on Monday, despite US plans to reinstate sanctions on Tuesday.
They added that Germany was still negotiating with the US to grant exemptions for German companies.
The so-called "snapback" sanctions will be reinstated from 12.01am EDT on Tuesday, a US Treasury official told Reuters on condition of anonymity.
The sanctions follow Trump's withdrawal in May from a 2015 deal made with Tehran. The agreement sought to lift economic penalties on Iran in return for cutbacks on its nuclear program.
Italy: EU fiscal rules 'not a priority'
Italy's government has warned it may flout fiscal rules if they interfere with planned national reforms. Their proposed changes include tax cuts and an overhaul of the pensions system.
EU fiscal rules are designed to prevent member states' public deficits from falling below 3% of GDP.
Speaking to broadcaster RAI on Monday, Prime Minister Luigi Di Maio said: "Our priority is the citizens and their needs". He added that respecting fiscal rules "cannot be a way to say that we cannot implement" the reform agenda.
Helsinki shoppers escape heatwave overnight by kipping in supermarket
One hundred lucky people in Finland spent the night in the aisles of their local air-conditioned supermarket on Saturday to escape Europe's searing heatwave.
K-Supermarket confirmed in a Facebook post on Wednesday that its Helsinki branch would open its doors for one night to give shoppers respite from soaring temperatures. The chosen few just needed to arrive at the store before it closed for the day with their sleeping essentials.
As it happened on Monday, August 6
This is how we covered key developments this morning: