Gmelin and Borch are Euros' golden rowing gladiators
Comments
By Reuters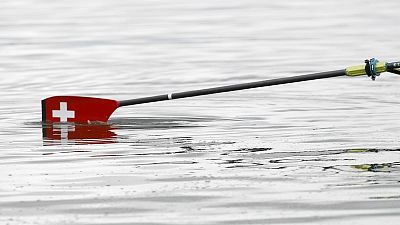 -
GLASGOW (Reuters) – Switzerland's Jeannine Gmelin and Norway's Kjetil Borch landed the blue riband single sculls titles at the European Championships on Sunday as their respective countries enjoyed a superb final day of the regatta.
World champion Gmelin proved again why she is the fastest woman on the water, powering to another emphatic victory just 75 minutes after compatriot Michael Schmid had won the lightweight men's single sculls.
The Norwegian teams had already celebrated a victory for Kristoffer Brun and Are Strandli in the lightweight men's double sculls when Borch rowed to his major singles title after enjoying previous world championship glory in a double.
Gmelin, who has become the dominant force in the gladitorial world of single sculling, lifted the world title last year and has continued her magnificent form in an unbeaten 2018 season.
The 28-year-old was again in a different class to her rivals, winning by 1.47 seconds from Austrian Magdalena Lobnig.
Borch, who won an Olympic bronze in Rio de Janeiro in the double alongside the great Olaf Tufte before going it alone, pronounced himself thrilled but "extremely worn out" after his breakthrough singles title.
Brun, 30, and Strandli, 29, reheated the glory of their 2013 world championship triumph with their victory. "It's fantastic to be back on top," said Brun.
In the regatta's final race, always a highlight of the programme, world champions Germany took the men's eights title to become the 11th country to strike gold over the two days of rowing finals at Stathclyde Country Park just outside Glasgow.
Romania topped the rowing medal table with seven, including three golds while Switzerland, Norway, Italy and France ended with two golds apiece.
The French double scullers Hugo Bucheron and Matthieu Androdias won the race of the day, prevailing after a thrilling see-saw encounter over the final 250 metres with silver medallists Romania and bronze winners Britain.
It was the first time the championships had been staged amid the new format of the multi-sports European Championships, with lightweight single sculls champion Schmid, the defending champion, admitting it had a different feel to his 2017 win.
"It is special again but this time it's so good to be here with the other Swiss competitors in the swimming, cycling and other sports. It's like a mini-Olympics," he said.
(Reporting by Ian Chadband, editing by Pritha Sarkar)