Civil war destroyed their homes. These refugees are learning how to rebuild them.
Comments
By Bill O'Reilly with NBC News World News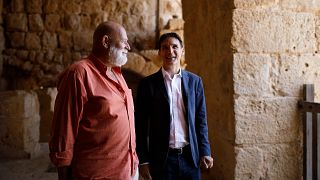 MAFRAQ, Jordan — A few dozen men and women huddle over blocks of limestone, delicately recreating the ancient masonry that once dotted their hometowns, now laid to rubble by seven years of war and the Islamic State's assault on culture and history.
Once car salesmen, college students and housewives in places like Aleppo and Homs, they now study the art of restoration stonemasonry in northern Jordan.
In this hardscrabble desert city, the rebuilding of Syria has begun, one chisel blow at a time.
A year-long training program launched by the U.S.-based World Monuments Fund and the Petra National Trust of Jordan is teaching Syrian refugees how to rebuild the heritage sites and decorative architecture that once made their cities the jewels of the archaeological world.
Nearly 6 million Syrians have fled their country since 2011. Mafraq — the city's name is said to mean "crossroads" — is home to nearly 84,000 Syrian refugees. They now outnumber Jordanians.
In many ways those in the city are the lucky ones. Just east of town, in what seven years ago was empty desert, lies the sprawling Zaatari Camp. An estimated 80,000 refugees live in its two square miles of makeshift homes. Most of the shelters are corrugated tin shacks with canvas tarps on top.
For more on this story, watch NBC's Nightly News tonight at 6:30 p.m. ET.
In June, the Assad regime began its ongoing assault on ISIS-affiliated militants in Syria's Daraa Province just north of the camp. More than 230,000 civilians were displaced at the height of the fighting. Jordan has so far refused to take in the new refugees.
Heritage lost
The course began last October with 30 trainees, but has now grown to 45 and includes six Jordanians. It is nearly evenly made up of women and men, an effort to break down the traditional gender gap in stonemasonry.
Weaving among his students to offer encouragement or, just as often, criticism, is Tony Steel, a 70-year-old British master stonemason with the World Monuments Fund who has spent the majority of his life in distant corners of the globe restoring antiquities. He spent 10 years in Syria before the civil war forced him out.
"We're trying to create a cadre of tradesmen who are able to return to Syria and cascade skills onto unskilled tradesmen," Steel said. "So that they can participate in a very meaningful way and have some sort of impact … on the restoration of the destroyed Syrian-built heritage."
Looking at an ornamental piece that would be more at home in Rome than this dusty workshop, Steel notes it's from his most promising student, Mahmoud Rafeeq al Quasem.
"It's really quite wonderful," Steel said. "This has a degree of sophistication … but bear in mind this was just a chap who had a joinery workshop selling timber," he laughs. "No artistic training, nothing."
When asked how long he has been in Jordan, al Quasem is quick to say the exact date he left his life in Homs — April 15, 2012. For six years he has lived within sight of the border. In another time he could have driven home in four hours. "I want to be one of the first people back in Syria for the restoration," al Quasem said. "Because if we're not doing it, if we're not going to do it, I don't think anyone else will."
Until then, he's focused on his work.
"I have something internal that I need to bring out and I feel that I want to achieve something," he said. "I feel it belongs to me. The stone belongs to me."
Not all of the students are as skilled as al Quasem. What they do share is dedication. Every day from 8 a.m. to 1 p.m. they alternate between masonry practice and classroom work on geometry, basic engineering and the history of Islamic architecture. Occasionally they take field trips to the many heritage sites that dot Jordan.
On a recent trip the group visited the 12th-century Ajloun Castle. Originally built as a military watch post for the Sultan Saladin, it sits atop one of the tallest hills in the area.
To the west of the castle lies the Jordan River Valley and the West Bank. To the east is the desert and the stonemasonry school in Mafraq. And to the north, beyond the hills, lies Syria.
'It's a beginning'
Steel is quick to note that it is the human loss in Syria that is most important — more than 500,000 people have been killed, according to the Syrian Observatory for Human Rights. But it was the antiquities that made him and his partner, Stephen Battle, realize they could help.
"It became clear even if money is available, even if the will is there to do conservation, to preserve what is remaining there, if there are no skilled people to carry out that work then it is simply not going to happen," said Battle, a World Monuments Fund program director.
"It just will be easier to demolish the damaged buildings than preserve them."
Syria has six sites on UNESCO's World Heritage List. Each has now been severely damaged or destroyed, but few sites fared worse than Aleppo. A recent survey by UNESCO found that 60 percent of the Old City has been severely damaged in the war. Thirty percent is completely destroyed.
Owaish Jabra was 22 when she left Aleppo in 2012. She remembers the Great Mosque, with its shining marble courtyard and towering minaret. By 2013 the ground of the courtyard was littered with debris, with the surrounding porticoes scarred by bullet holes and singed black from fire. The 11th-century minaret was nothing but a pile of rubble in the corner.
She said that if you had seen Aleppo before the war, "you will be too much hurting your heart" looking at it now.
Steel admits the training program is only a drop in the vast ocean of Syria's destruction. But even if the students don't make it back anytime soon, the classes provide a sense of purpose and routine while they remain in the refugee's purgatory.
The World Monuments Fund hopes to expand in the future. The program's first year was funded by a $700,000 grant from the British Council's Cultural Protection Fund. The WMF wants to do two more years of classes, training nearly 100 more stonemasons ready to rebuild.
"It's a flea bite," Steel said, "but it's a beginning. It's a very, very necessary beginning. Where does one make a start? I often think exactly that. Really, what is the point of this? And the point is, it is a beginning … of a long, long road."
It may be a quixotic mission, chiseling away in the Jordanian desert while bombs continue to drop in Syria, but the refugees here talk of hope — a little bit of their lost lives waiting to be revealed in the stone.
"This is the most important thing," Jabra says with pride. "My country, my culture, my heritage."