Cause of Swiss plane crash unknown
Comments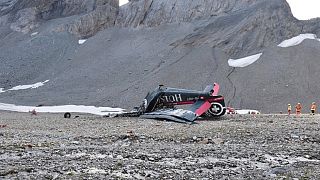 Investigators are trying to establish the cause of a plane crash in Switzerland on Saturday that claimed the lives of all 20 people on board.
The 1930's JU-52 vintage aircraft was carrying three Austrians and 17 Swiss nationals when it came down on the west side of the Piz Segnas mountain in the canton of Grissons. One witness described it as turning 180 degrees to the south and falling to the ground like a stone.
"What can almost certainly rule out is that there was a collision with another aircraft, an obstacle, or a cable, before the actual crash," said Daniel Knecht, head of the investigation service at the Swiss Investigation Authority.
All the bodies of the victims were recovered at the crash site.
The plane was a former military craft from the 1930s was being used to operate scenic and charter flights.  But officials say all the required maintenance procedures were followed
"The 35-hour check had been carried out at the end of July, so that basically five hours after the maintenance it was flying to Locarno. And during the last maintenance, no defect or anything could be found," said Kurt Waldmeier, CEO and co-founder of JU-Air.
It's been one of the worst weeks in Swiss aviation history. Also on Saturday, a family of four were killed when their plane crashed in a forest in central Switzerland. A week earlier a light aircraft accident in the canton of Valais claimed the lives of four people.