Watch: Ai Weiwei's studio demolished by Chinese authorities
Comments
By
Amy Chung
&
Pascale Davis
with
Reuters/AFP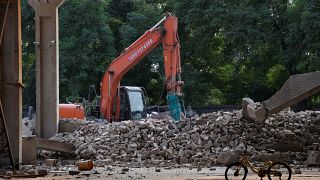 Chinese dissident artist Ai Wei Wei said one of his studios in Beijing was demolished by authorities without warning and before an agreed date with his landlord.
Ai's team scrambled to remove years worth of artwork over the weekend when bulldozers began razing his hangar-sized studio in the Songzhuang art district, located northeast of Beijing.
"They started to demolish my studio 'Zuoyou' (Left and Right) in Beijing with no precaution", Ai wrote on Instagram.
"Farewell," he said, to his studio of 12 years over the weekend.
In an e-mail to Euronews on Monday from his base in Berlin, Ai explained how his studio was destroyed before he managed to move out all his artworks and before an agreed date with developers who leased him the land.
"The lease has been up for some time so we had already begun the process of moving things out; however, there was a verbal agreement to continue occupying the space until Aug. 15. The demolition began without any warning or advance notice," he told Euronews.
Adding, the galleries around Songzhuang may disappear by next year.
"A curator just told me that all of Beijing's artist's studios will vanish within a year. That threat is constantly there, but sometimes it doesn't happen," Ai added.
In July, galleries in another Beijing art district, named Caochangdi, were given two weeks' notice to leave before demolition, according to The Art Newspaper.
Ai, one of the first artists to settle in Caochangdi, said his studio there was not affected but remains skeptical it would be safe from land grabs in the future.
"For many years, even when I was still living there, the authorities have said they would tear down my Caochangdi studio. At the same time, the same authority has also promised me they would not. Only until the day when the trucks and machinery arrive at the door will you know. This feeling of insecurity and distrust is always present. How can you accurately judge the situation? One authority says they will not touch you, but the next day you are under arrest. One says you will be sentenced to 13 years imprisonment, but the next day you are free to go home. This kind of authoritarian power can do whatever it likes," he wrote Euronews.
Sudden land razings and forced evictions are not uncommon in China. Last year, Beijing artist Hua Yong, documented the removal of hundreds of thousands of migrant workers in the capital, believed to be a government effort to rid the city of its 'low-end' population, namely those in blue-collar jobs such as: waiters, cleaners, for instance. Migrants affected by the crackdown had mere days to pack up their things and leave. Those who resisted were forcefully removed. Last spring, Beijing began bricking up historic hutongs, or alleyways, making way for new development, according to this first-person observation in Foreign Policy.
It was not clear if other galleries were affected by the raze in Songzhuang.
AFP reported that Chinese authorities have been clearing parts of suburban Beijing over the last year, and residents near the studio said the former factory area was slated for redevelopment.
Not returning to China
The artist was once a favourite of the Chinese government, designing the much-admired "Bird's Nest" stadium for the 2008 Beijing Olympic Games.
However, Ai fell out of favour with authorities once he became critical of the authorities after a deadly earthquake in eastern Sichuan province just ahead of the Olympics.
He was detained for 81 days in 2011 following accusations of tax evasion. He said those charges were politically motivated.
The artist paid a $2.4 million (just over €2 million) fine and his passport was confiscated until 2015. He has since been living in self-imposed exile in Berlin, but said he will soon leave the German city in hopes of finding a 'sunnier' place to live.
In light of all he's been through, Ai expressed he doesn't plan to return to China.
"With incidents such as this one, it makes me wonder how realistic my intention to go back actually is. Even if I believe that I will be safe, there is simply no trust in any promises made or in anyone's good intentions. There is no rationality in this behavior," he told Euronews.