Russian police break up Gay Pride protest in St Petersburg
Comments
By Reuters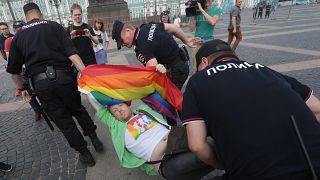 Russian police detained as many as 30 gay rights activists who took part in an unsanctioned rally in St Petersburg on Saturday.
A few dozen activists had gathered at Palace Square in defiance of a ban. City authorities had turned down their request to hold a parade so each participant demonstrated alone, in a bid to avoid the protest being called a gathering,
One activist, who gave her name as Sobi, said: ''I am very tired of the discrimination and the thought that I'm not allowed to walk out and say I feel bad about it. My country doesn't want to hear that I feel bad, it doesn't care."
Police detained campaigners who unfurled rainbow flags or held placards, dragging them into a police bus.
Homosexuality was considered a crime in Russia until 1993. In 2013 Russia passed a law banning the spread of so-called gay "propaganda".
Last month, Russian police briefly detained British campaigner Peter Tatchell after he protested near the Kremlin in support of gay rights.