Swiss police urge owners to put dogs in shoes during heatwave
Comments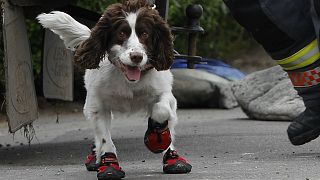 Copyright

REUTERS/Darren Staples/File photo
Police in the Swiss city of Zurich have launched a campaign calling on dog owners to put their four-legged friends in shoes during the heatwave to protect their paws.
"Not everyone is happy about the current hot temperatures. And that also means man's best friend: the dog," Zurich City Police wrote in a post on Facebook this week.
The "Hot Dogs" campaign calls on owners to measure the temperature of the ground with the back of their hand for five seconds to determine whether it will hurt their pet's paws.
"Is it too hot? Then avoid routes in the sun on the asphalt, equip big dogs with 'shoes', and carry smaller dogs," the post says.
Police also directed owners to information urging them to protect dogs from direct sunlight, provide them with sufficient water and avoid leaving them in hot cars, even for a short time.
Hundreds of people reacted to the Facebook post, with many writing messages in support of the campaign.
Switzerland has experienced one of its hottest summers since records began, with temperatures in some areas of the country forecast to reach up to 37°C in the coming days, according to the weather service Meteonews.