Feeling good: positive stories from the week
Comments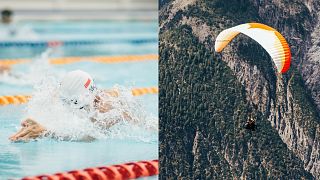 Studies have shown that increasing positive emotions has a powerful effect on our general wellbeing.
Always looking on the bright side can change our perception and even our reasoning. But is it really that simple with news? We know it's not.
This is why we'd like to introduce you to our roundup of some of the brightest stories from this week.
We hope they'll give you a nice shot of positive energy to cheer up your Friday.
1. Paris' cooling bench is the latest tool to help people beat the heat
The French capital's latest attempt to create a summer oasis is a 10-seat bench installed outside the Gare de Lyon.
It works by pumping cool water from the River Seine to relieve the heat when you sit down.
Read more on Euronews
2. 'Spectacular' ancient public library discovered in Germany
The remains of the oldest public library in Germany, a building erected almost two millennia ago that may have housed up to 20,000 scrolls, have been discovered in the middle of Cologne.
"It dates from the middle of the second century and is, at a minimum, the earliest library in Germany, and perhaps in the north-west Roman provinces," said Dr Dirk Schmitz from the Roman-Germanic Museum of Cologne.
Read more on The Guardian
3. A 10-year-old named Clark Kent beat a record that Michael Phelps held for 23 years
It's not very often that Michael Phelps gets knocked off the record board, but a 10-year-old swimming phenomenon with a superhero name has done just that. He's Clark Kent Apuada - and of course, they call him "Superman."
Read more on CNN
4. Paragliders fill the skies above Portugal to crown new European Champions
150 of the continent's best paragliders graced the skies above Montalegre, Portugal, in July as new champions were crowned in the European Paragliding Championship.
Read more on Euronews
5. NASA is set to launch the Parker Solar Probe to "touch the sun" next week
The Parker Solar Probe is set to become the first spacecraft to enter the sun's corona, or it's outer atmosphere. NASA is calling it "a mission 60 years in the making," and the historic journey is one you won't want to miss. The launch has been re-scheduled for next week.
The Parker Solar Probe will travel almost seven times closer to the sun than any spacecraft that has come before. NASA wants to get close to it to better predict space weather effects on Earth.
Read more on Inverse
While we rely on credible sources in this news roundup, Euronews has only independently verified those published on Euronews.com or Livingit.com.