Fast news: The best from the week in 60 seconds
Comments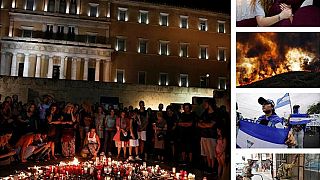 Watch Euronews' Fast News, where the most significant stories of the past few days are packed into 60 seconds.
What has moved the world this week? Violent scenes unfolded in Zimbabwe on Wednesday, following the election. Opposition leader Nelson Chamisa's vowed to launch a legal challenge, saying the vote was rigged. According to the Electoral Commission, Emmerson Mnangagwa won with 50.8%, while his rival took 44.3% of the poll.
In Nicaragua, even after 100 days of protest against the government of President Daniel Ortega, the situation has not calmed down.
While in Athens, hundreds of people held a candlelit vigil for the 92 people killed in wildfires at a seaside resort.
And in the West Bank, the Palestinian teen protest icon was released from Israeli prison. Ahed Tamimi returned home to a hero's welcome on Sunday after Israel released the 17-year-old from prison for slapping and kicking Israeli soldiers.