Dozens killed in airstrikes on Yemeni port of Hodeida
Comments
By Reuters, AP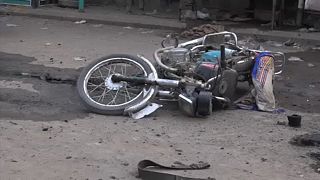 Dozens of civilians were killed in airstrikes on the rebel-held Yemeni port city of Hodeida on Thursday, threatening renewed efforts to negotiate an end to the conflict.
The attack took place close to the city's main public hospital and near a popular fish market, officials said.
As many as 50 people were killed and more than 100 wounded.
The western port of Hodeida is the main point of arrival for aid supplies to Yemen, where around 8.4 million people are believed to be close to starvation.
John Ging, of the UN Office for the Coordination of Humanitarian Affairs, said: ''Sustained hostilities in Hodeida City, interruptions to the port operations, or a siege of the city would be catastrophic and must be avoided. There is no contingency plan that can effectively protect civilians from dire humanitarian consequences if conflict in Hodeida escalates, as the capacity of international organisations and their response would quickly be overwhelmed.''
The Saudi-led coalition fighting Iran-backed Houthi rebels denied any responsibility for the air strikes, which came as the United Nations tries to secure a ceasefire agreement between the warring sides.
Martin Griffiths, the UN's Yemen mediator, said on Thursday he plans to invite the warring parties to Geneva on September 6 to discuss a framework for peace talks and confidence-building measures as he tries to negotiate an end to the more than three-year conflict.