Apple first company to reach a trillion dollars
Comments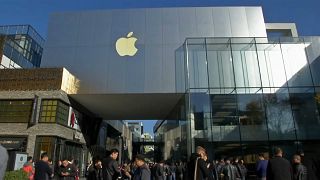 Apple, the maker of the iconic iPhone, has become the first tech company to reach a valuation of a trillion dollars. Better than expected sales pushed the company's stock price to 207 dollars on Thursday, enabling the California-based tech giant to take the prize. Just 20 years ago Apple faced bankruptcy.
''It has been an extraordinary rise over the last couple of decades," Craig Elam, senior markets analyst at OANDA, told euronews. "And the fact that it has managed to sustain this throughout that entire period, despite a number of challenges, is quite incredible and I think they have had to rely on a number of different factors in order to do so. One is continued innovation with regards to the iPhone, which is quite clear, but also diversifying its business to ensure there is other revenue streams I think has also been an important aspect as well.''
To put that in perspective, Apple is nearly rivaling some of Europe's biggest economies.
To put the trillion dollar valuation into perspective, Spain's annual economic output is 1.5 trillion dollars.
It was the iPhone that really sent Apple's valuation into the stratosphere. Since the first model went on sale in 2007 the company's shares have risen by 1,100 percent.
Since the company first listed on the U.S. stock exchange in 1980 the shares have soared by 50,000 percent.