Apple becomes world's first public company worth $1 trillion
Comments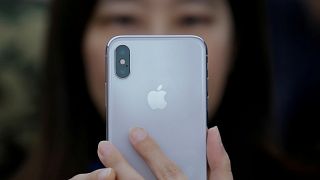 Apple has become the world's first publicly listed company that is worth $1 trillion, beating its Silicon Valley rivals such as Amazon and Facebook.
It comes after the tech giant's stock jumped 2.8% on Thursday to as high as $207.05 in afternoon trading in New York.
The iPhone maker's stock has risen about 9% since Tuesday when it reported better than expected results for the three months to June.
The company was started by three men in a garage in California in 1976 and was initially best known for its Macintosh personal computers.
Steve Jobs, Steve Wozniak, and Ronald Wayne made up the trio.
Wayne, who was brought on to provide business guidance, ended up leaving Apple before it was officially incorporated with an $800 check for his shares in the company.
Jobs was driven out in the mid 80s, but returned a decade later, when Apple was close to bankruptcy, and turned the company around.
It was in 2007 that Apple shifted its fortunes to become the world's most valuable public company.
The smartphone revolution
Jobs caught rivals such as Samsung and Microsoft off guard after he launched the iPhone and dropped "Computer" from Apple's name, paving the way for the smartphone and app revolution.
Tim Cook replaced Jobs after his death in 2011.
Apple first listed publically in 1980 and its stock has risen more than 50,000% since then.
The company is also the maker of the portable media player the iPod, and tablet computer the iPad.