Vietnam: Giant hand bridge attracts the tourists
Comments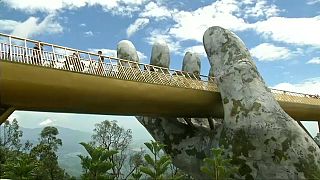 Putting your life into Gods hands! That's quite literally what happens when you walk on a new giant hand bridge in central Vietnam.
The "Golden Bridge" in the Ba Na Hills has attracted many tourists since it opened in June,
It sits a thousand metres above sea level
These tourists from Vietnam love the experience. "I feel like I'm walking and the clouds are below my feet, like I am actually stepping on the clouds. It's so interesting and so much fun". "I think this is a wonderful architectural idea. It makes me feels like the human hands can create anything. This is very beautiful"
The walkway extends over the treetops from the edge of a leafy cliff face and provides uninterrupted views of the landscape beneath.