Europe briefing: Six stories to know about today
Comments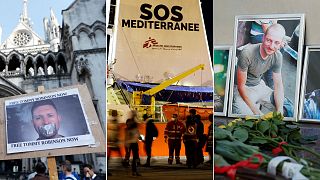 1. Tommy Robinson
Far-right figure Tommy Robinson is to be bailed in England after he successfully challenged a contempt of court charge finding.
Judges at the Court of Appeal announced their decision on Wednesday that the English Defence League founder would be temporarily released.
Robinson was jailed in May after he filmed himself heckling people involved in a criminal trial and posted the footage on social media, attracting hundreds of thousands of views.
2. Sweden crown jewels theft
Brazen thieves have snatched crown jewels belonging to the Swedish royal family and fled in a heist reminiscent of a James Bond movie.
Robbers took two crowns worn by King Karl IX and Queen Kristina, and a royal orb from Strangnas Cathedral in southern Sweden before fleeing on a motorboat, prompting police to give chase.
No arrests have yet been made and the thieves remain at large, police confirmed.
3. Russian journalists murdered in Africa
Three Russian journalists have been murdered in the Central African Republic after they were kidnapped by around 10 men on Monday evening and slain on the spot, according to witnesses.
Russian media reported that the journalists were working on an investigative film about a Russian security firm operating in the country when they were ambushed. Their driver reportedly fled and alerted the authorities.
The Russian foreign ministry is in the process of repatriating the bodies. They identified the murdered journalists as Kirill Radchenko, Alexander Rastorguyev and Orkhan Dzhemal.
4. Aquarius to set sail again
The vessel chartered by French NGO SOS Mediterranee is to restart its search and rescue operations again, weeks after it sparked a political crisis when it tried to dock in Italy and Malta in June with over 600 migrants on board. The boat was eventually granted passage to Valencia in Spain.
It is one of only two private ships operating still operating in the Mediterranean.
5. Political tensions rise in Greece
Political in-fighting has taken centre stage in Greece, with the opposition roundly criticising the government and pushing for snap elections as Athens faces accusations that the wildfire disaster was handled poorly.
Prime Minister Alexis Tsipras has meanwhile hit back at his critics, accusing his rivals of exploiting the situation.
6. May cuts short holiday to appeal to Macron
British Prime Minister Theresa May is to cut short her summer break in Italy to visit Emmanuel Macron in southern France on Friday, Downing Street has confirmed.
May will become the first foreign leader to meet the French President at his home in Fort de Bregancon in an attempt to convince him to back her Chequers' Brexit deal.
News of the move broke early on Wednesday, hours after Foreign Secretary Jeremy Hunt told Britain's Evening Standard newspaper that the likelihood of no deal being reached was "increasing by the day".
As it happened on Wednesday, August 1
This is how we covered key developments this morning: